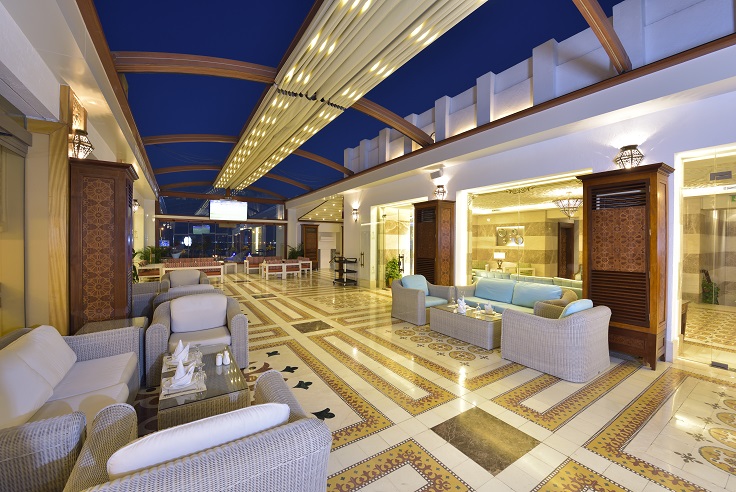 The Ultimate Guide to Motorized Shading Solutions – Convenience, Efficiency, and Style
With the ever-evolving technology, home automation has become a widespread trend that provides homeowners with convenience, efficiency, and style in their daily lives. Motorized shading solutions have changed the way  natural light is controlled and added modernity and sophistication to all living spaces. In this comprehensive guide, we explore the benefits, features and considerations of motorized shading solutions to help you make  informed decisions for your home.
Understanding motorized shade solutions
1 How motorized shading solutions work 
Motorized shade solutions work with an advanced motor system that enables precise control of shades and blinds. It is possible to integrate these systems with smart home technology, which allows for automated and remote control without any interruptions.
With a simple push of a smartphone button or voice commands, homeowners can easily adjust the shades to the desired position, creating the perfect ambiance for any occasion.
2 Seamless integration with smart home technology
One of the most important advantages of motorized shading solutions is their integration with smart home technology. These systems can be synchronized with other smart devices such as lighting systems, thermostats and surveillance cameras, providing a complete home automation experience. Homeowners can create custom scenes by automating the opening and closing of shades at specific times of the day to optimize natural light and improve energy efficiency.
3 Study of different types of motorized shades 
There are different types of motorized shade solutions to suit different preferences and design aesthetics. Roller shades are a popular choice, offering a sleek and modern look while providing excellent light control. Cellular sunglasses are known for their energy efficiency, as their tiled structure traps air and helps regulate internal temperature. Drapes and curtains add elegance and sophistication to any room, while motorized blinds offer a classic and versatile way to control light.
Comfort and efficiency – the advantage of a smart home
The integration of smart home technology has revolutionized the way we interact with our living spaces in today's fast-paced world. Motorized shading solutions play an important role in increasing the comfort and efficiency of a smart home and offer many advantages suitable for a  modern lifestyle.
 1 Automation of shadows for comfort 
One of the main advantages of motorized shading solutions is the convenience it offers to homeowners. By simply touching your smartphone or giving voice commands to smart assistants like Amazon Alexa or Google Assistant, you can easily control your sunglasses from anywhere in your home. Whether you're lounging on the sofa, preparing a meal in the kitchen or enjoying a peaceful morning in bed, adjusting the shades to create the perfect light and mood is just a voice command away. The ability to control multiple tones simultaneously with a single command simplifies the process, saving you time and effort.
2 Optimization of natural light and regulation of internal temperature 
Motorized shading solutions offer an advanced approach to  natural light control. Homeowners can make use of natural sunlight to brighten up their living spaces by automating the opening and closing of their shades throughout the day. It not only adds aesthetic appeal to the interior, but also creates a comfortable and inviting atmosphere.
In addition, motorized shades play an important role in regulating the internal temperature. On hot summer days, shades can close automatically  to prevent excessive heat and reduce the workload of cooling systems, saving energy. During winter, it's a good idea to open the blinds during the day so that sunlight can warm up the room naturally. This can help in reducing the need for heating and promote energy efficiency.
3 Energy efficiency and potential cost savings 
Motorized shading solutions are designed with energy efficiency in mind. By controlling natural light and blocking unwanted heat, these shades help  maintain a comfortable indoor environment and reduce dependence on artificial lighting and heating or cooling systems. As a result, homeowners can experience potential cost savings on their energy bills over time. In addition, the ability to schedule and automate tone adjustments based on daily routines and preferences ensures  energy consumption optimization without  manual intervention. With smart sensors that can detect changes in light and temperature, motorized shade solutions can adapt to  changing conditions and provide an ecological and energy-efficient living experience.
Creating the Perfect Mood
The atmosphere of the living room plays a crucial role in shaping the general atmosphere and atmosphere. Motorized shading solutions offer a unique opportunity to enhance the atmosphere of any room, perfectly combining style, aesthetics and functionality. In this chapter, we explore how motorized shading solutions help create the  perfect ambiance to complement various interior  themes.
1 Improve style and aesthetics with motorized shading solutions 
Motorized shade solutions are more than just functional window treatments; they are also a sign of style and sophistication. Homeowners have the freedom to explore a wide range of fabric options, colors and patterns to suit their individual tastes and decorating preferences. Whether your home has a modern, traditional or minimalist aesthetic, motorized shades can be adjusted to enhance and harmonize with your existing decor.
2 Completion of interior design issues 
Motorized shade solutions are the perfect finishing touch to any interior  theme. For modern and elegant rooms, curtains in neutral tones create a clean and minimalist look,  motorized curtains in bold tones add  vibrancy and character to the room. In traditional settings, curtains with elegant patterns and rich textures exude timeless charm and grandeur.
In addition, motorized shade solutions are suitable for transitional spaces that combine different furniture elements, allowing homeowners to move effortlessly  between different themes and moods. The versatility of these shades ensures  seamless integration with different interior styles, resulting in a harmonious and aesthetically pleasing environment.
3 Balance of privacy and light control with blackouts and transparencies 
Motorized shading solutions offer a good balance between privacy and light control with dimming and dimming options. Blackout curtains can be used in bedrooms and entertainment areas to completely block outside light and create a cozy and private atmosphere. On the other hand, transparent shades gently filter natural light and bring a soft ethereal glow to the room.
The ability to adjust the shades to different levels of transparency allows homeowners to maintain privacy while  enjoying plenty of natural light during the day. This dynamic lighting control improves the atmosphere and creates spaces that are inviting, comfortable and adapted to the specific needs and preferences of the residents
CONCLUSION
As we wrap up our exploration of motorized shading solutions, it's clear that these systems go beyond just being window treatments; they actually become an integral part of your lifestyle. You'll love embracing the modernity, convenience, and elegance they offer, and the way they unlock the full potential of your home with their perfect blend of convenience, efficiency, and style.
When you have motorized shading solutions, your living space transforms into a haven of comfort, efficiency, and beauty – a place where you can truly unwind and flourish.
So, get ready to embrace the future of home automation and witness the incredible impact that motorized shading solutions can make in your home. Elevate your living spaces and embark on a journey filled with comfort, sophistication, and effortless control. Taking the first step towards the ultimate modern living experience with motorized shading solutions is like embracing the epitome of convenience, efficiency, and style! Don't miss out on this incredible opportunity to elevate your home to a whole new level.